Custom Metal and Brass Ornaments for Gift Shops
Looking for a new addition to your gift shop? Custom keepsakes and souvenirs are a great way to increase your product base and provide a way for visitors to remember their time with you. Custom Metal and Brass ornaments are one way to make a durable high quality collectible for a low initial investment.
Custom Ornaments from Any Idea or Design
Since 1974, The Charleston Mint has been designing and minting customized ornaments for businesses and organizations of all kinds. It all starts with an idea, photograph, sketch, or just an original concept. From there, our experienced craftspeople go to work creating a design that captures your desired look and feel.
Choose from color accents, or a brass finish. You can also use pewter, zinc, or even gold to create different looks and feels for your final collectible. Production doesn't begin until you're happy with the mock-up.
Gift Shop Ready Packaging
When you create a custom brass ornament with help from The Charleston Mint, you get a fully shop ready package that includes plastic sleeves for easy display, boxes, or presentation folders. All our packaging options are fully customizable, so the final product is professional and sale ready.
Large or Small Batches Are Welcome
The Charleston Mint can help you reach your goal quickly, efficiently, and on budget. Make custom ornaments and keepsakes that are ready to sell in large numbers or small quantities. Create multiple different designs with unique looks and details, and prepare to grow your business with a one of a kind and memorable collection of keepsakes and collectibles.
Contact Us Today for Pricing Information
Because ornaments from The Charleston Mint are created at various sizes, shapes, materials, quantities, and packaging options, the easiest way to discuss pricing is to contact us for a free consultation. We'll walk you through the different options available to you and help you find the perfect coin, souviner, metal and brass ornament, figurine, custom keepsake or commemorative to satisfy your needs.
Don't wait, contact us today!
Figurines and Statues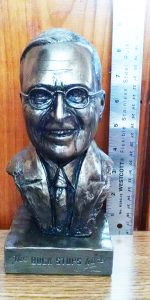 We create custom commemorative Figurines for many different groups.
Want to have a statue replica made? Email us or call with what you want us to make and we can put it together.
Low Minimum Quantities Offered.
Contact Us about ordering custom Figurines and Statues